Personal Alarms for the Elderly Keep Them Safe 24/7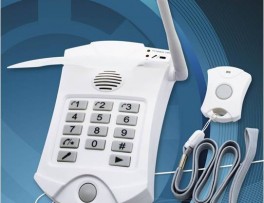 What a sad day for your family. You are sitting around the kitchen table deciding what to do with Grandma. She fell recently in the bathroom. Fortunately, nothing was broken; it was only a sprain. This time, she was lucky. But, you are concerned about what might happen the next time. So, here you are, sitting around the kitchen table with the rest of your family deciding what to do. There are several options. She could move in with one of you. She could move in to an assisted living facility. Or, she could move into a nursing home. Grandma is heartbroken, though, about all of these options. She does not want to leave the house in which she raised her family. She also does not want to lose her independence. If only there was some other option. There is another option. Personal alarms for the elderly are a wonderful solution to this exact problem. What are personal alarms for the elderly? Keep reading.
What are Personal Alarms for the Elderly?
Personal alarms for the elderly are a wonderful compromise. They give you peace of mind, while they can provide your elderly loved ones the independence they need and want. These alarms are pendants that the elderly user wears around his or her neck. In the event of a medical emergency, such as a heart attack, stroke, or fall, the user simply presses a button on the pendant alarm. The best senior personal alarms are water-resistant, so that they can be worn in the shower where a lot of accidents occur. When the alarm button is pressed, the alarm dials the user's three chosen emergency contact numbers. The user can program an emergency telephone number, such as 999, or any other landline or mobile telephone number he or she wishes. When the emergency contact answers, the user can communicate with the emergency contact through the microphone and speaker in the base unit. A pre-recorded message will play if the user is not able to speak. The emergency contact will know that the user had a medical emergency and needs assistance.
Where Do I Find the Best Senior Personal Alarms?
SureSafe provides the best personal alarms for the elderly. They are water-resistant, so the user can wear the alarm in the bathtub or shower, and they come with a 12-month guarantee. Best of all, there are no monthly fees or service charges. When you purchase your personal alarm, you own it 100 percent free and clear. Everything you need is provided right in the box. Purchase a personal alarm for your elderly loved ones today. You will not only ensure their safety and your own peace of mind, but you'll allow them to stay independent for longer, too.