Are There Convenient Training Programs for a Dialysis Nurse Job?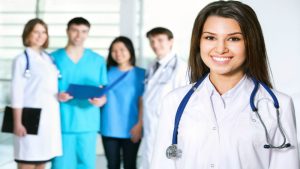 Dialysis nurses assist the physician in both pre- and during-treatment of patients who require hemodialysis due to chronic or acute kidney failure. This typically includes readying the dialysis equipment, taking and recording patient vitals, dressing catheters, priming the dialyzer and bloodlines, identifying irregular reactions to dialysis, and monitors the treatment from start to finish. In addition to the clinical work needed, when a dialysis nurse, you also interact with the patient, including teaching them the next steps of continued care after treatment.
Depending on the setting in which you are employed, you may enjoy normal work hours or may also have the greater flexibility of working non-traditional hours in a 24/7 treatment center. During treatment, beds and pillows may also need to be adjusted to make the patient more comfortable or to potentially help the patient get in or out of a treatment position.
Are There Opportunities For Educational Advancement to Become a Dialysis Nurse?
Classroom based educational experiences are available to be able to get the appropriate training. A hemodialysis nurse is a vocational or certified registered licensed practical nurse. Most educational opportunities prepare the nurse to sit for their State Certification Exam.
Ready For The Next Step?
If you're ready to make the next step into a dialysis nurse job, there are options that have both on-site training and workforce or on-campus classes if you want to improve or make a career change. Look towards Dialysis 4 Career for the experience and educational resources needed for your next step.